Paper-based IDs have long been a globally accepted standard mode of identity presentation. However, it is vulnerable to high risks of loss and fraud, in addition to being largely irrelevant in digital domains. With the recent digitization of many services, there are increasing number of opportunities for our personal identities to be used online in our daily lives. Personal identities and related information has importance in fintech platforms, healthcare systems, e-commerce, and social networking. To connect digitally, we must provide personal information such as our name, date of birth, address, credit card number, and other details.
On the other hand, there is increasing concern about the privacy implications of using personally identifiable information online. The current digital identification architecture is primarily centralized, meaning identity information is stored on centralized servers owned by specific entities, resulting in an entirely different paradigm of concerns. By doing so, we are trusting external entities to maintain the privacy of our data.
Individuals do not have meaningful ownership of their credentials in the centralized model and have no security of their personal data. Although internet users can be confident that the websites they visit are legitimate, there is no reliable way of determining the identities of individuals, organizations, and other entities that govern those websites or with whom users interact and trade. Despite superior security, the use of centralized servers makes digital identity management systems vulnerable to multiple cyber attacks. Entities may be bound by legal agreements such as data privacy agreements but technically it is still possible for them to misuse information. . Also, there is a big question mark on the privacy of data stored on servers of the platforms. Planform can use this data for monetization by sharing it with others.
When it comes to making digital identities more secure, a global public utility approach is preferred. That's where Decentralize Identity comes into the picture. It is based on the concept of Self-Sovereign Identity (SSI). Self-Sovereign Identity (SSID) means giving complete control to individuals over their identity and credentials without any dependency on the administrative body or third party. The SSI has the concept of verifiable credentials to store and share the identity and other data in which the individual is the ultimate owner of their identity and has complete control over its storage, distribution, and third-party access. SSI is not a new concept however combining it with blockchain brings transparency and trust in data ownership. Above all, the SSID ecosystem eliminates centralized storage, instead relying on Blockchain technology and cryptography to ensure trust, transparency, and integrity of data.
Decentralized identity implementation
There are three entities involved. The Issuer issues the verifiable credentials to the user via its own verification process, the User with an identity stored in the SSI Wallet APP, and the Verifier who verifies the presented credentials by the user. Users can acquire different credentials from different issuers using the keys stored in SSI wallet APP. These credentials can be securely shared while using platforms that trust the issuer. The features like selective disclosure, Zero-knowledge proof gives complete control of privacy to users over their data while sharing it with a verifier.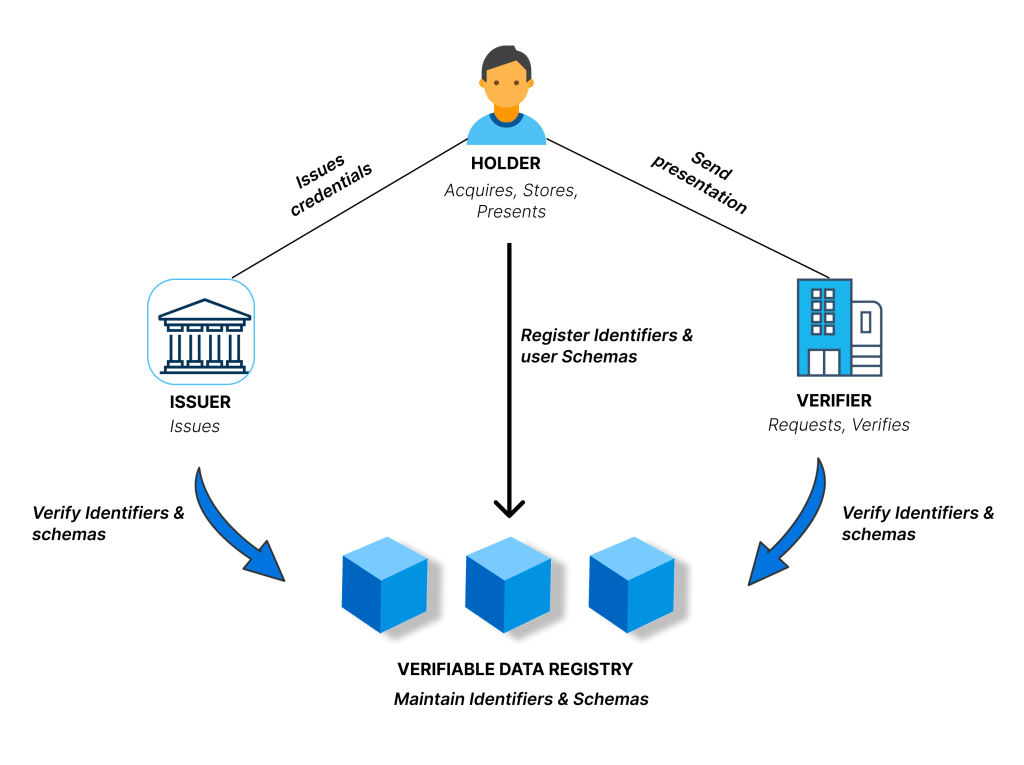 This solution can be utilized in various domains including Healthcare applications, Fintech, Educational records, Document management, and so on. SPARK has a decentralized identity solution & various pluggable components ready to Whitelabel for businesses. Feel free to comment with your thoughts and reach out to us to know more. For any more details feel free to reach out to us at hello@sparkplustech.com. We would love to hear from you.