Elevate Your Crypto Strategy: Unlock the Power of SPARK+ Crypto Wallet Development Services
Unlock the limitless potential of your digital assets and partner with the preeminent provider of prebuilt and custom crypto wallet development services. Our world-class solutions offer quick time-to-market, delivering unparalleled efficiency and flexibility to revolutionize your crypto management strategy with unmatched expertise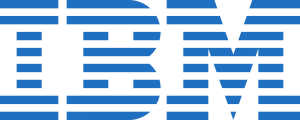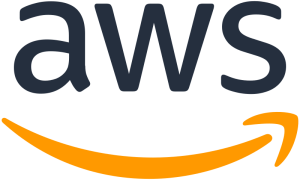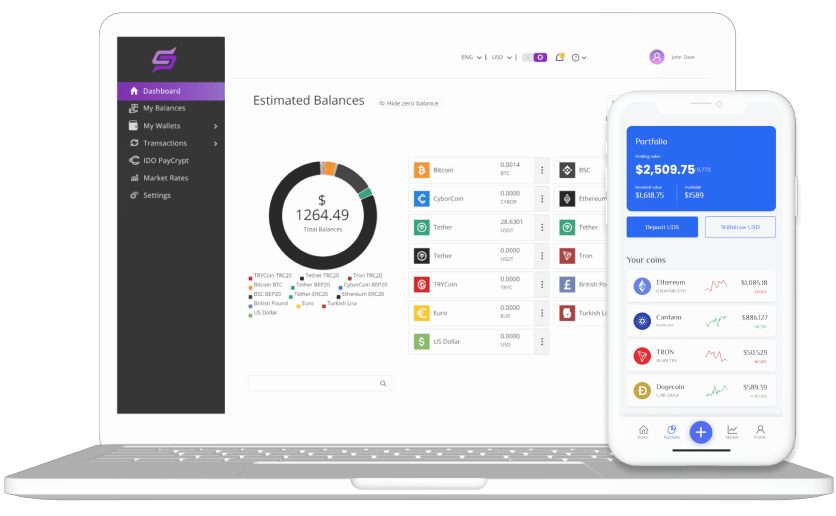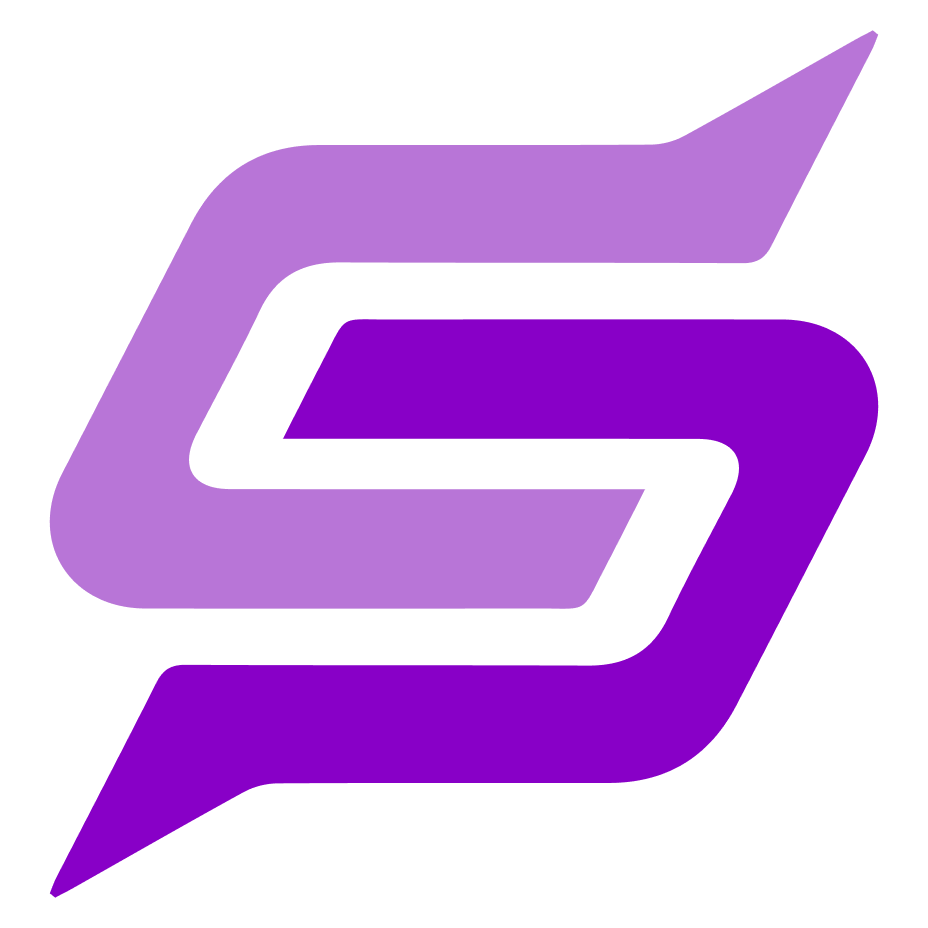 Prebuilt Crypto Wallets & Payment Systems
Paycrypt- A Web 3.0 Fintech Ecosystem by SPARK+
Accelerate your crypto business with our reliable prebuilt wallets and payment systems in paycrypt ecosystem. Our crypto wallet development services are scalable, secure, and easy to use, providing a competitive edge in the fast-paced world of cryptocurrency. With our comprehensive solutions, you can minimize development time, reduce costs, and accelerate your time to market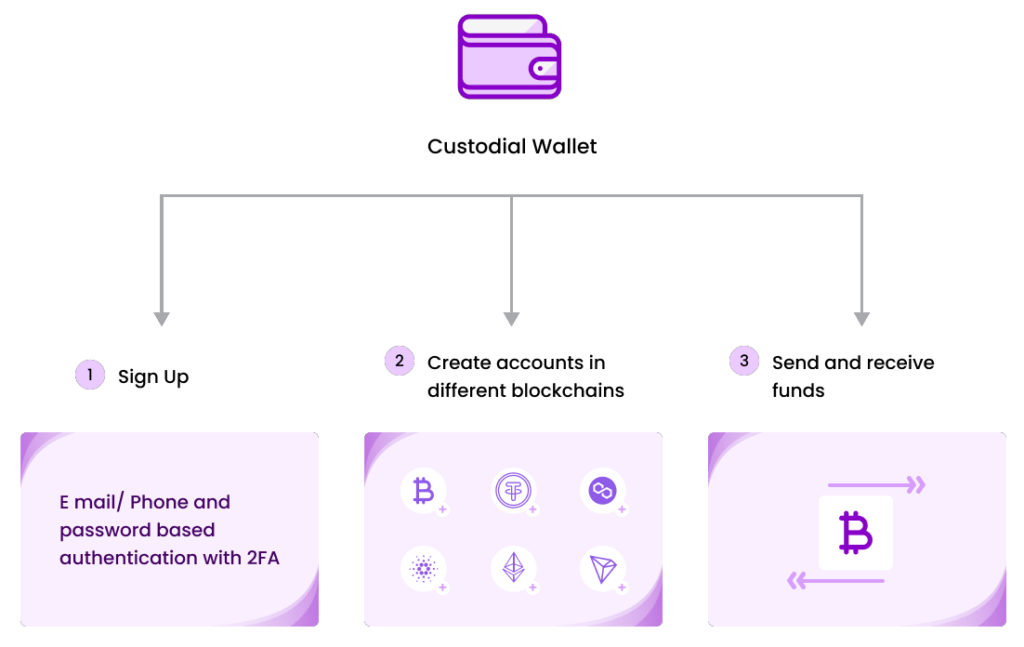 Onboarding & Security- Email based onboarding, Phone based Onboarding, 2FA, Google Authenticator, Captcha, Social logins

Supports 100+ crypto currencies & 10+ Blockchains

Balance info, Transaction History, Deposit, Withdraw, Transfer & Payments

Portfolio Manager- Live Market Rates, Analytical Charts, Market News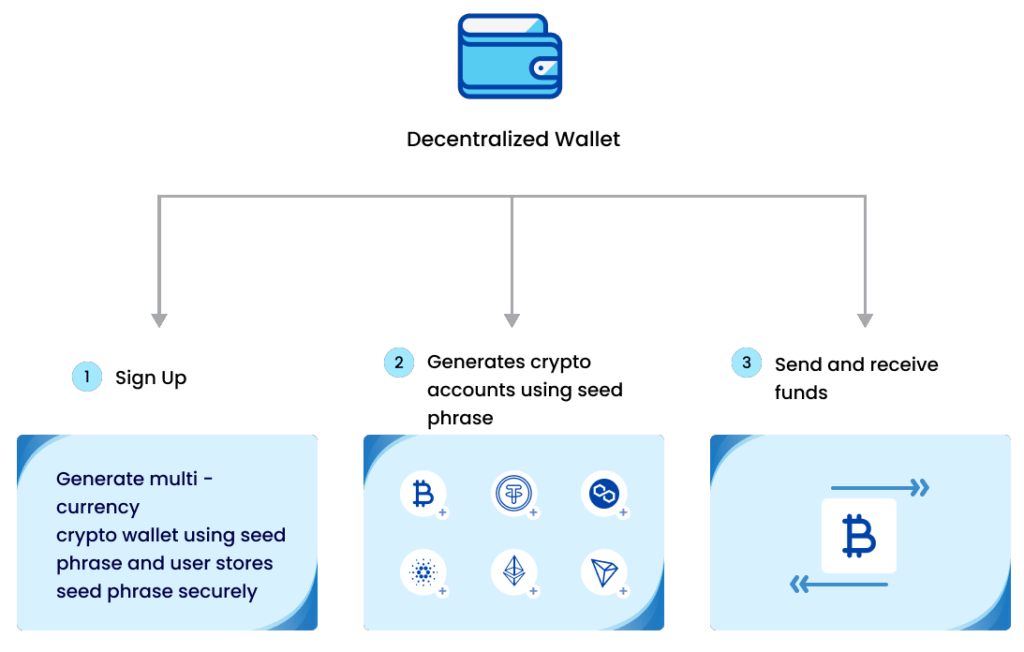 Onboarding & Security- Multi-currency wallet with single seed phrase, Additional client side encryption through pin, Import/export wallet

Supports 100+ Crypto Currencies & various Blockchains

Balance info, Transaction History, Send, Receive & Payments

Portfolio Manager- Live Market Rates, Analytical Charts, Market News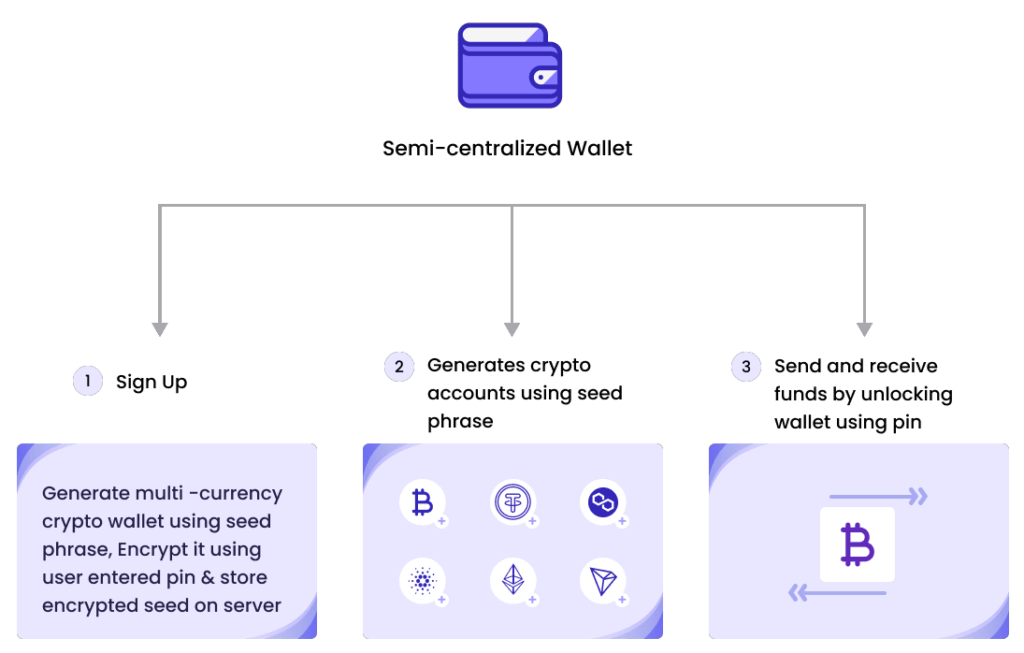 Onboarding & Security- Multi-currency wallet with user defined pin, Pin based login Import/export wallet

Supports 100+ crypto currencies & various Blockchains

Balance info, Transaction History, Send, Receive & Payments

Portfolio Manager- Live Market Rates, Analytical Charts, Market News
Multicurrency Decentralized Crypto Wallet
Superior Security and complete account ownership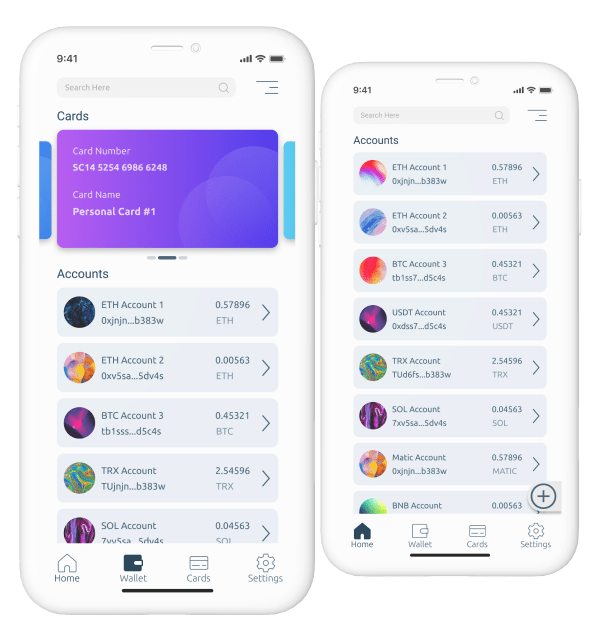 Decentralized crypto wallet allow users to maintain complete control over their digital assets. Users have full ownership of their private keys, which are necessary to access their wallets and initiate transactions. This means that the user is the sole owner of their digital assets, without having to rely on any third-party service provider. Furthermore, multicurrency decentralized crypto wallets offer transparency in transactions and provide a high level of security through encryption technology. Users can view their transaction history and track their portfolio performance, providing them with a comprehensive overview of their digital asset holdings.
Multicurrency Custodial Crypto Wallet
Most convenient & user-friendly
Multicurrency custodial crypto wallet is the ideal solution for individuals and businesses looking for a convenient and easy-to-use way to store and manage their digital assets. With advanced security measures, seamless integration with exchanges and blockchain networks, and a user-friendly interface, custodial wallet is perfect for both novice and experienced cryptocurrency users. The wallet stores your private keys in an encrypted format, ensuring that your funds are protected from unauthorized access. The wallet is designed with advanced security features to ensure the highest level of protection for your digital assets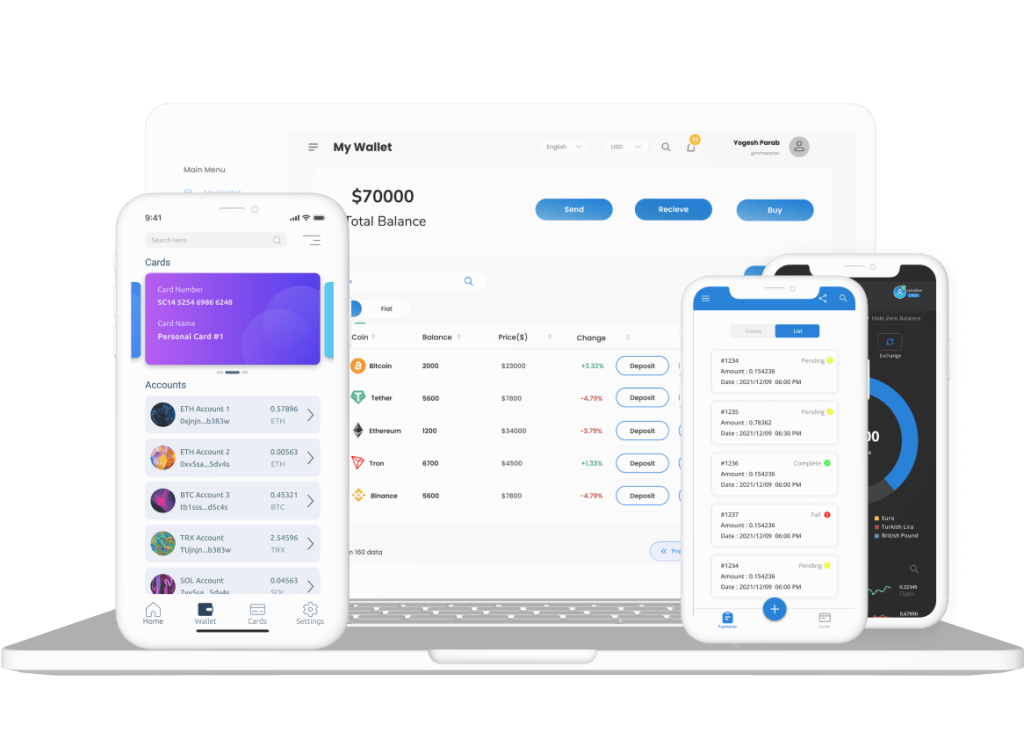 Multicurrency Semi-centralized Crypto Wallet
Combination of security and ease-of-use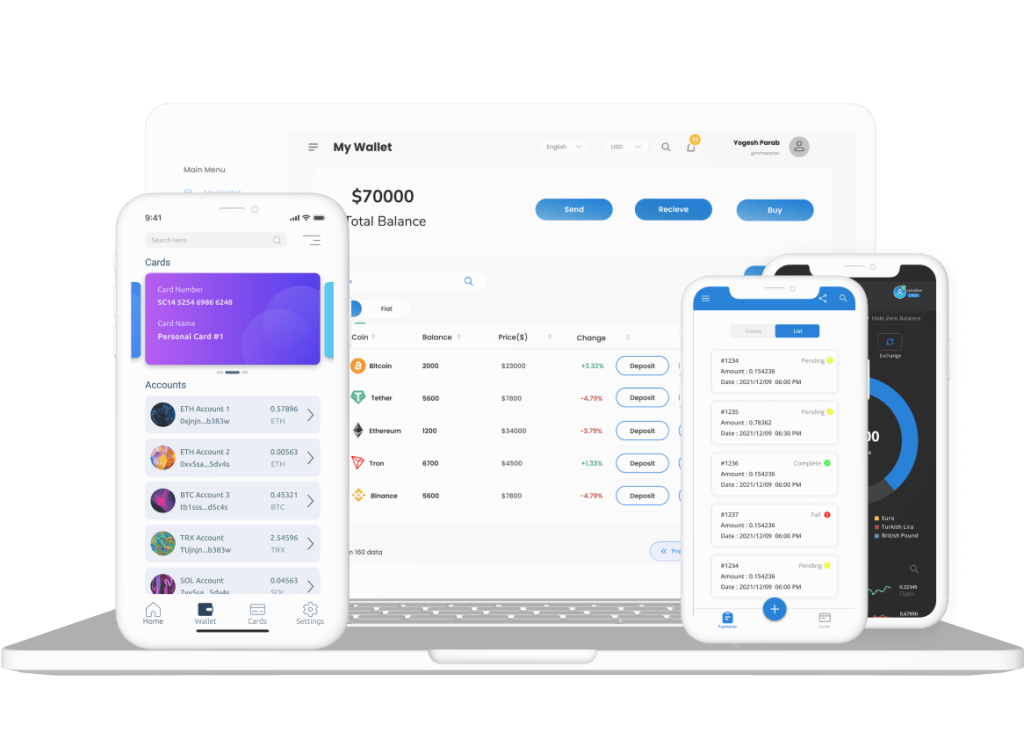 The semi-centralized aspect of our wallets means that while they are managed by a central authority, users still maintain control over their private keys and can access their funds independently. This provides an added layer of security for your assets, without compromising ease of use. With a semi-centralized wallet, users can enjoy the best of both worlds. They can rest assured that their private keys and assets are secure, while also benefiting from the ease of use and convenience of a centralized wallet. Semi-centralized wallet provides a balance between security and ease of use.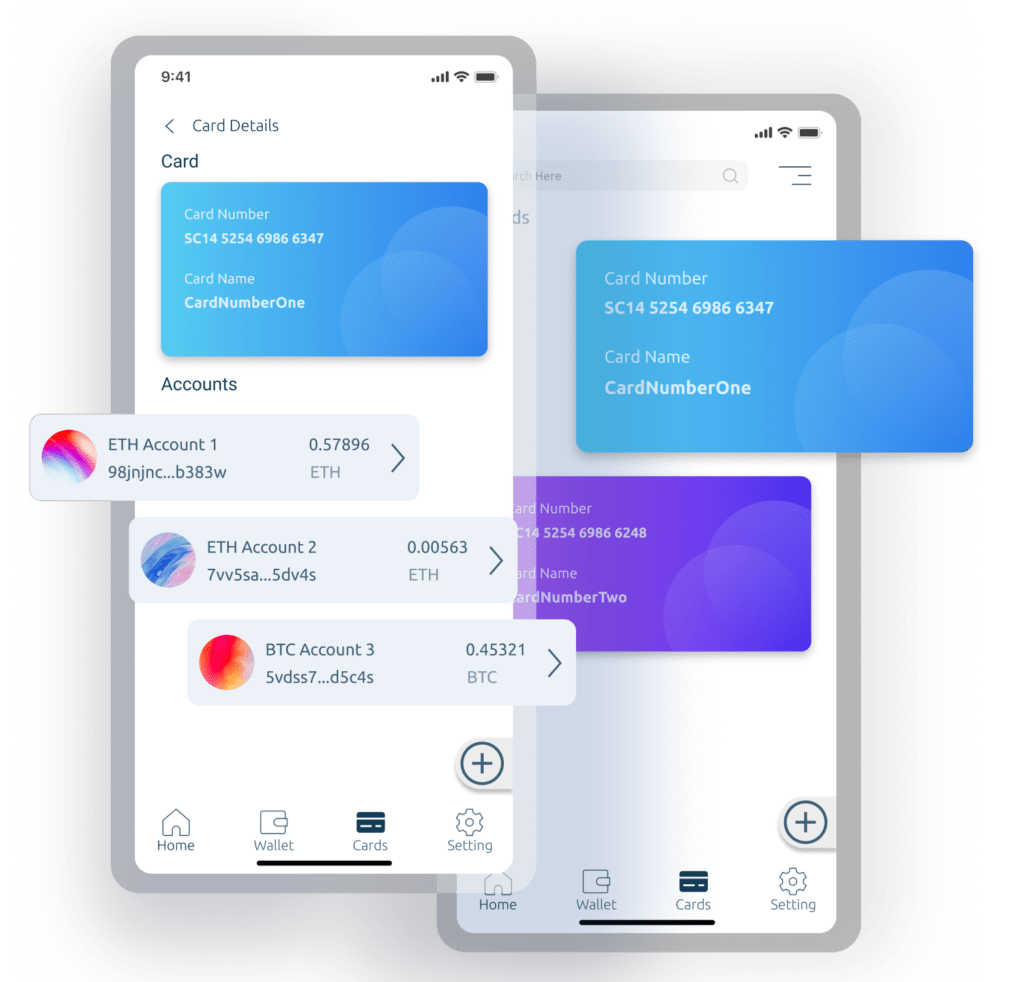 NFC card-based cold wallet is designed to be portable and offline, making it less susceptible to hacking attacks. Using near-field communication technology, the user can easily transfer their digital assets to and from the card by tapping it against a compatible device. Additionally, the wallet is tamper-resistant, providing an added layer of security. With the ability to manage digital assets through a mobile app or web interface, an NFC card-based cold wallet is a convenient option for users who value flexibility and accessibility. Another advantage of using an NFC card-based cold wallet is that it provides users with complete control over their private keys, which are necessary to access and manage their digital assets. This eliminates the need for users to trust a third-party service provider to secure their assets, giving them greater peace of mind.
Supports 100+ cryptocurrencies, custom tokens from 20+ blockchain networks allowing users to manage all digital assets in a single place.
Multiple Authentication Options
Provides advanced security features like 2FA, pin, captcha and biometric authentication to prevent unauthorized access.
Fiat Currency Integration
Supports integration with fiat currencies, enabling users to buy(on-ramp), sell(off-ramp), and trade digital assets for fiat currencies
Offers easy deposit and withdrawal options to move funds from other wallets and platforms through different options available
Allows users to trade on multiple cryptocurrency exchanges directly from the wallet, leveraging the liquidity of various exchanges
Real-time monitoring of transactions ensures that users are informed of any activity in their wallet, preventing fraudulent activities.
Offers in-depth analytics to track portfolio performance, enabling users to make informed decisions about their investments
Customized Commision Structure
Allows platform owner to set customized commision structures based on their business model
Enables users to pay using cryptocurrencies through different online and POS payment options with automated exchange


Crypto Wallet and Payments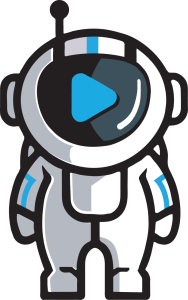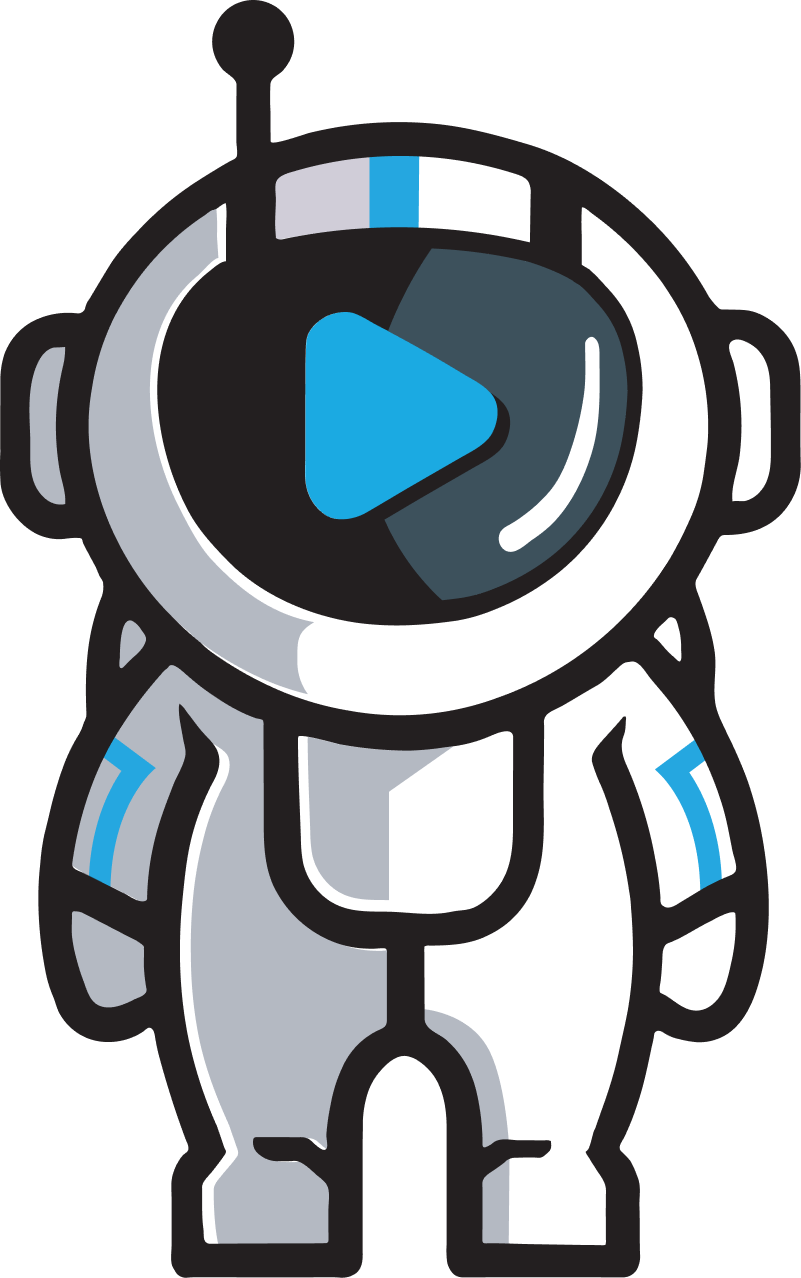 Decentralized Video & NFT Platform
Decentralized Social Media & Community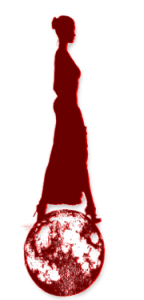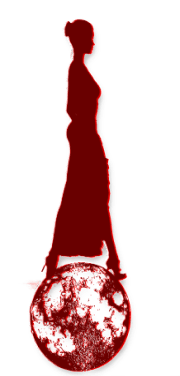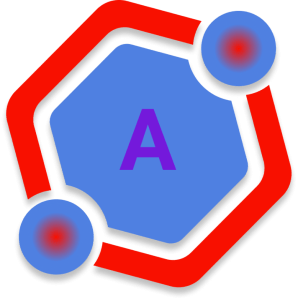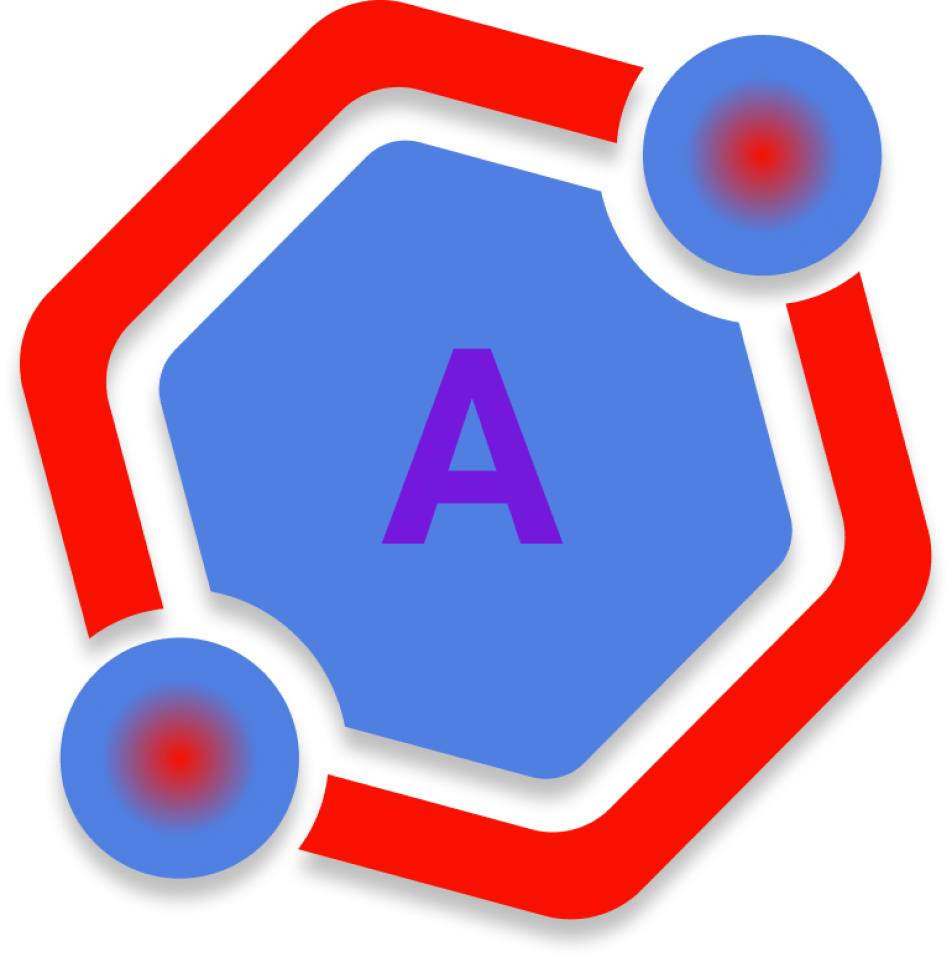 Decentralized Lottery & Gaming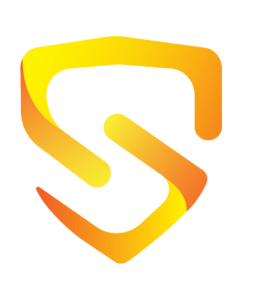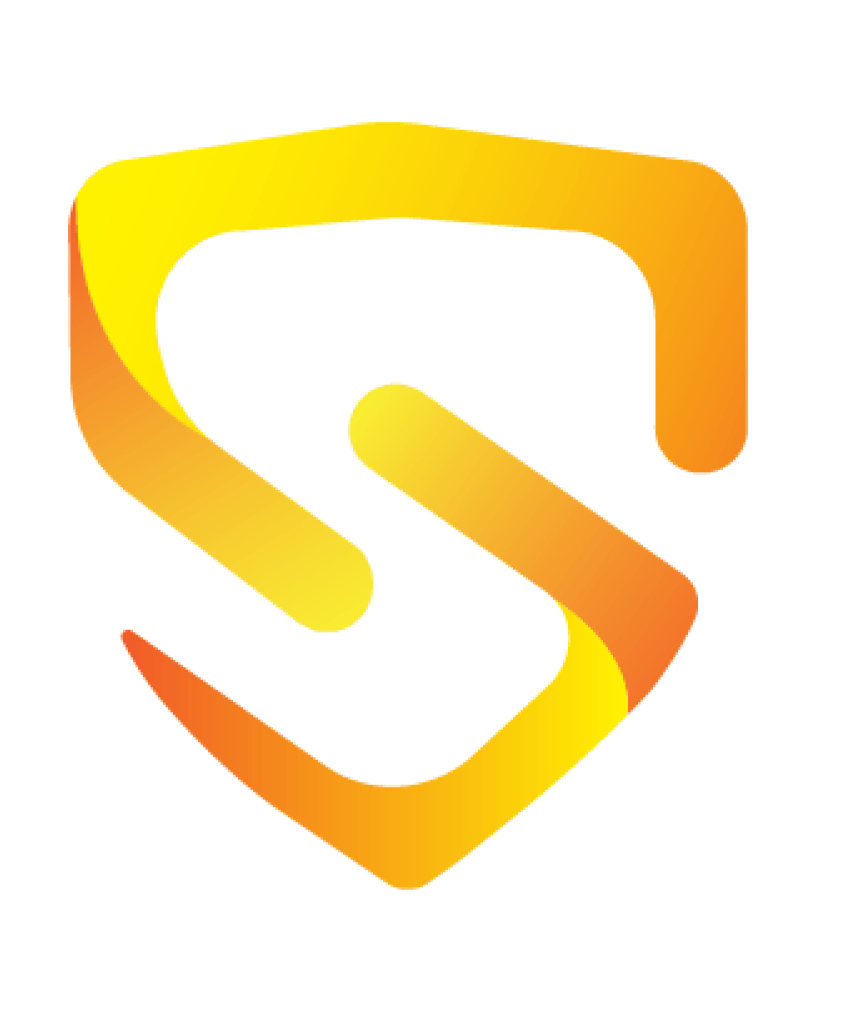 SSI Based Identity Management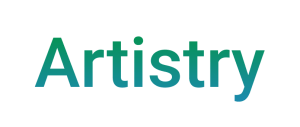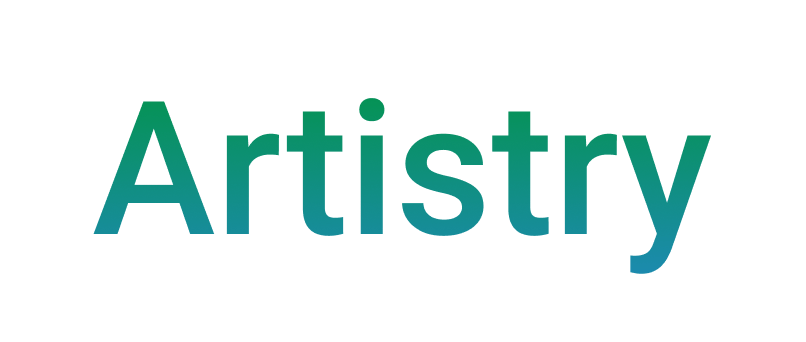 NFT Marketplace for Artists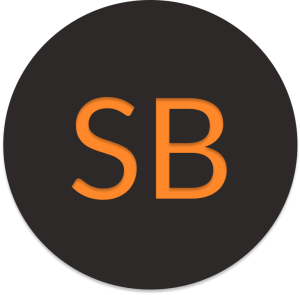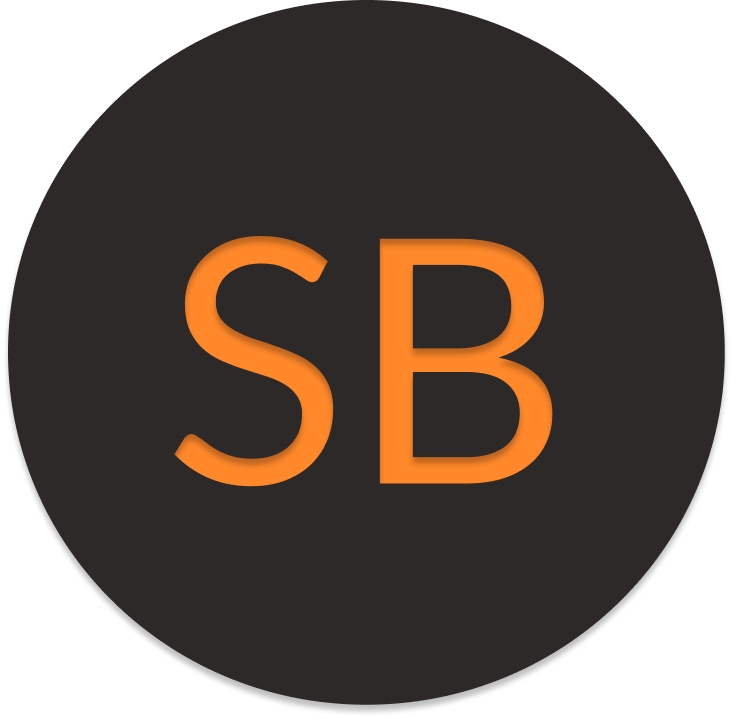 Blockchain Based Voting System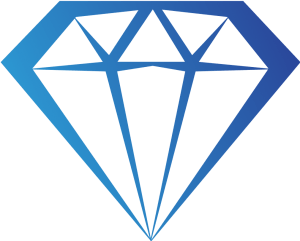 Blockchain Based Supply Chain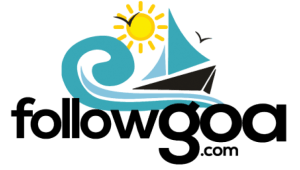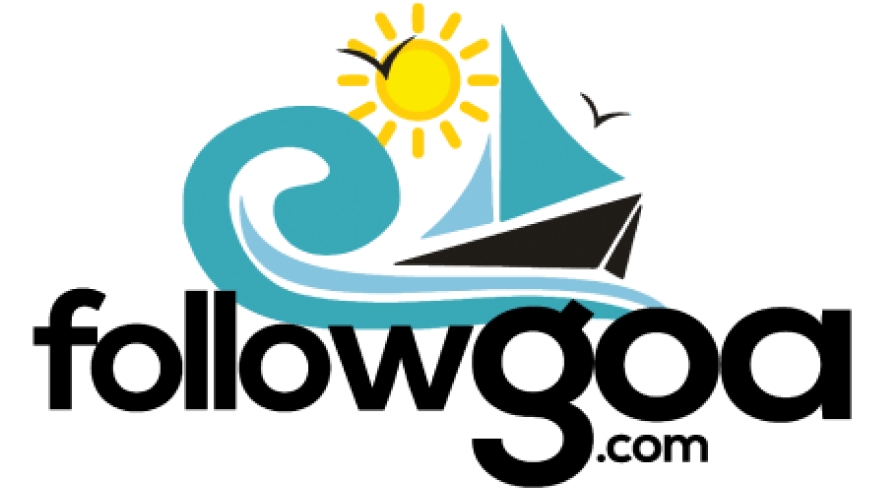 Experiential Travel and Tourism

Autobet
SPARK+ is a closely-knit team of very savvy hardworking professionals with a high level of performance and enthusiasm. The team was always very prompt at responding to my queries and addressing project issues .I liked their openness to new ideas and suggestions on how to add more value to the products being developed.
RateMyGrass
I was very impressed with the high quality work, speed of delivery, and excellent customer service. We worked very well together and they delivered above and beyond what I expected. SPARK+ Technologies really came through on a speedy timeline and communicated very well with me on all aspects of the project. Great job and thank you.
SparkLand
I have a great experience working with SPARK+ dev team. They are able to connect with requirements quickly, discuss architecture and technology selection with me. They have also worked with on agile method which allows usable features to be developed, tested, and deployed into production. Thank you for your mobile development service.
Diamond Supply Chain
One of the best companies I have worked with. Ability to understand business requirements and translate them into application is awesome. SPARK+ developers are very easy and professional to deal with. Really hope our this venture takes off and we have regular association. They have done a great job and looking forward to work with them in future.
BookMyTrek
My choice to choose SPARK+ Technologies to develop my website was a wise one. They provided many examples of their excellence. In their suggested ideas, they display innovation. Every milestone is explained and accessible people are there to help you to understand progress of development. Delivered a high quality website on schedule.
Cyborpay
Over a period of a few months the team developed a crypto wallet software enabling wallet owners to buy/sell/exchange cryptocurrencies, and a cryptocurrency payment system - a business solution to receive and process payments in cryptocurrencies. The team was always very prompt at responding to my queries and addressing project issues.
Weedcommerce
Amazing experience with the team! Projects always met deadlines and the work spoke for itself Reviewed 1 week, 4 days ago by Weedcommerce Marketplace I've never met a better development team! Everyone is so smart and friendly. Communication is really good from the team. All development work is high quality and was delivered on time.